Domaine de Pont Vieux 2020 (sleeping 8 – 23 guests) – the main house and the cabane.
The main house
Pont Vieux is a large holiday home (formerly a centre de découvert) on 2
floors with 4 bedrooms sleeping 8 guests (or 12 including sofa beds).
Fully equipped with an out-standing kitchen and built-in bar. No need to bring linen or towels, it's all there.
Long tables inside and out means everyone can dine together any time of the day. A BBQ is available to use too.
The owners have thought about everything… the main house has 1 family bathroom with toilet, sink and power shower. There is also a shower room on the ground floor with 4 shower cubicles complete with 4 toilets and sinks, so there's certainly no queuing for the bathroom!. Both the annexe and wood cabin also have their own bathrooms.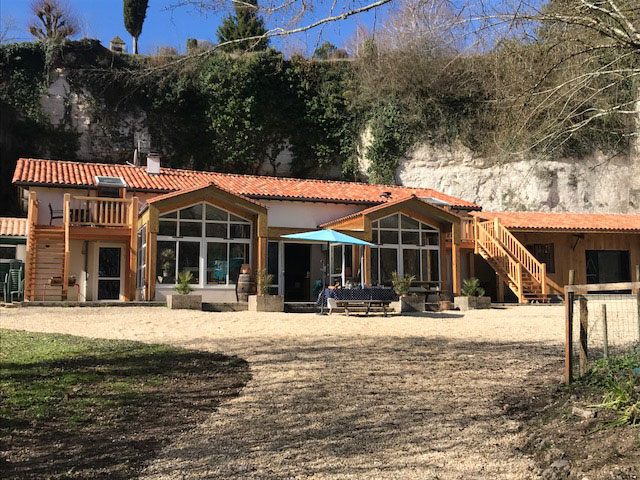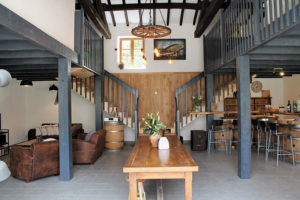 The annexe
Next door to the main house with separate access sleeps 2 and is ideal for teenagers or grand parents wanting their own space.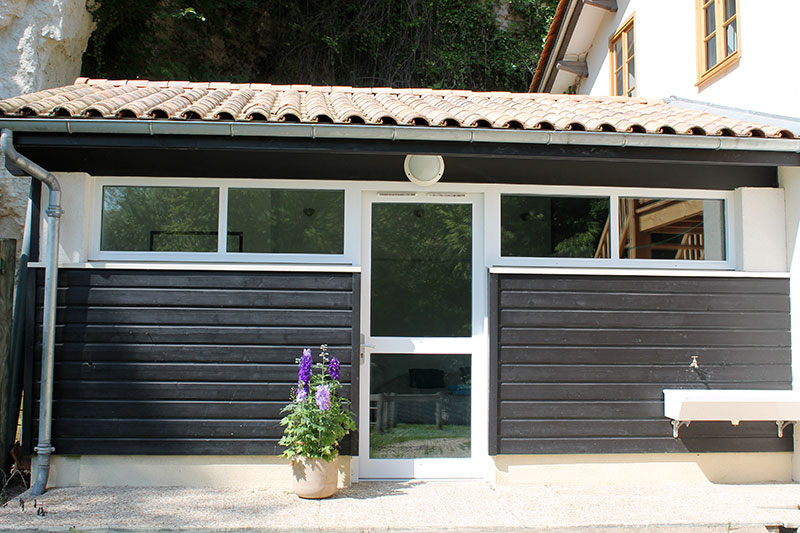 La cabane
The detached wood cabin next door sleeps 4 in 2 bedrooms (or 6 with extra sofa bed) and is totally self-contained.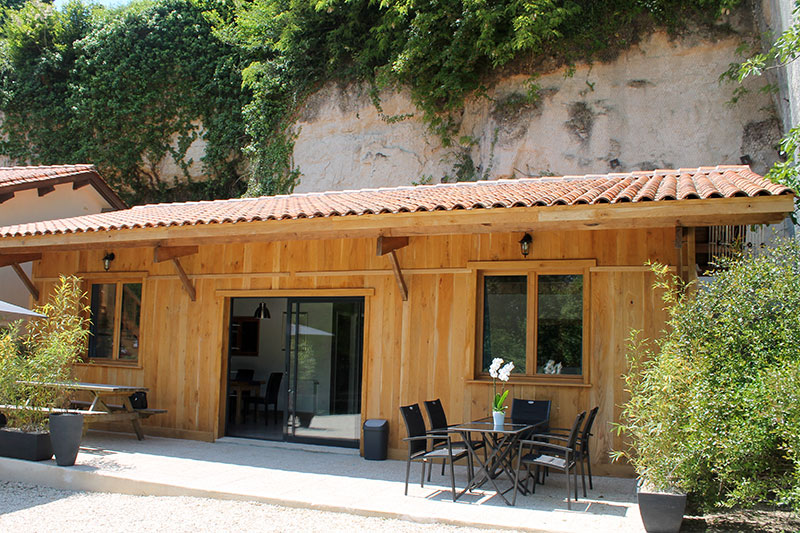 There are two more cottages available on the terrain which can be booked individually as they have their own outdoor space.
The Aquarium sleeps 6+1 in 3 bedrooms and Cabane Insolite sleeps a further 2 guests.
The Aquarium
(sleeping 7 guests)
Formerly a real aquarium where children were educated about nature and outdoor life. From inside the aquarium you are able to view into a small pond which gives you access to 'life underwater'. From your bedroom you can look straight into the pond and see the fish.
The Aquarium has it's own garden and parking space and has a separate entrance to Pont Vieux itself. The house is equipped with 1 bathroom, open plan kitchen & dining room, has a terrace, BBQ etc. There are 3 double bedrooms and 1 extra bed , 7 guests can sleep here.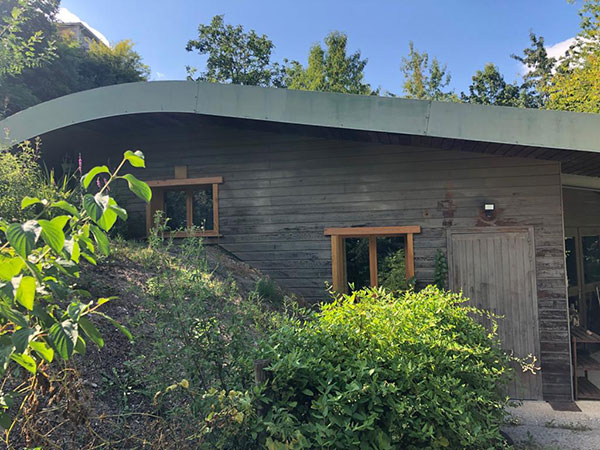 Cabane Insolite
(sleeping 2 guests)
Located on the island, you will find a separate wood cabin which sleeps 2. It's a studio and the living and bedroom space are all open plan. You have access to your own beach, a huge garden (the island) and the river.
There is also a well-equipped kitchen, dining table and separate bathroom.
In order to get to Cabane Insolite you will need to leave your car behind in the communal parking area and walk past the Aquarium to get to the wood cabin. In autumn / winter, we suggest you to bring wellies!
Both Cabane Insolite and The Aquarium can be booked separately from Pont Vieux.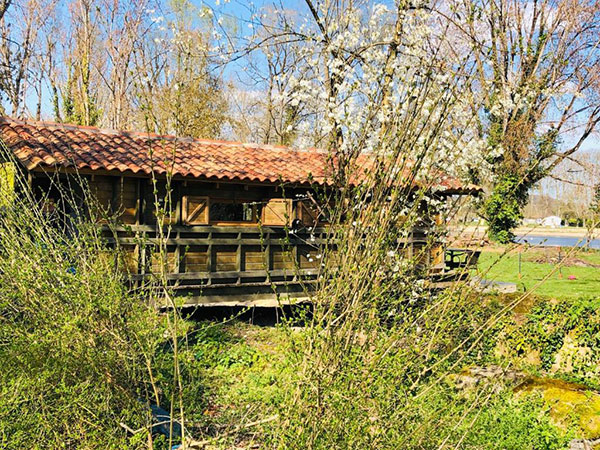 Outside
Gates to the property. Car parking for approx.. 10 cars on gravelled area. Terrace with seating benches and tables for 20 guests. BBQ.
Bridge to island with beach, access to the river Dronne. Acres of greenery and landscaped gardens, woods, fishing platforms and treehouse.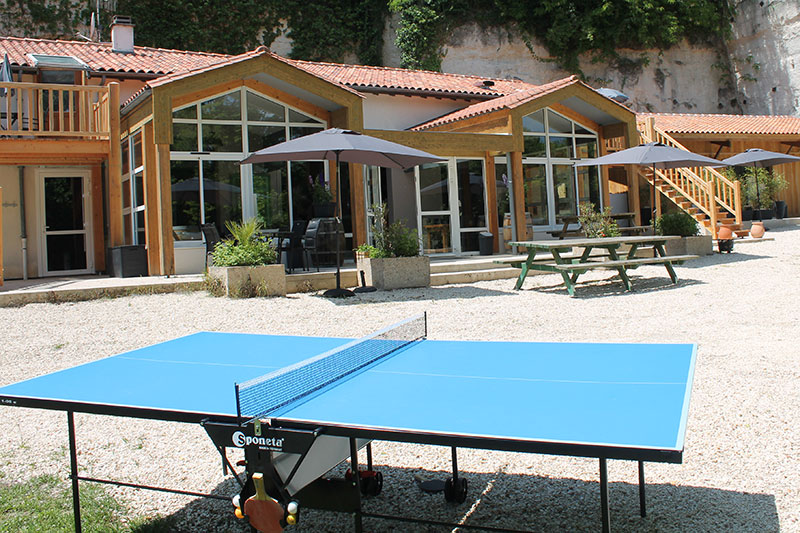 This is the ideal place to stay for a group of families or celebration groups (attending weddings, anniversaries, birthdays etc).
The Grande Domaine (all the houses) can sleep groups from 23 guests in their own beds to 31 guests in total in 4 extra sofa beds.
Prices 2020
Domaine de Pont Vieux including La Cabane – prices start at €1200 per weekend (€600 per night).  Weekly rates from €2,500.
Grande Domaine de Pont Vieux including all houses – prices start at €2000 per weekend (€1000 per night). Weekly prices from: €3,500.